Where is Central Snowsports located in Falls Creek?
We have 3 convenient locations, equipment can be collected and exchanged / returned to any store.
Winterhaven, corner of Falls Creek Road and Slalom Street (Shuttle Stop 3)
Cedarwood, Cedarwood Apartments, Schuss St (Shuttle Stop 6)
Village in Silverski (Astra, Huski, Frueauf Village precinct)
For more help head over to our FIND US page
Our direct store contact is 03 5758 3500 or you can email us reservations@centralsnowsports.com.au
What is the Delivery & Collection Service?
When you hire from us we can deliver your equipment to your mountain accommodation to save you the hassle of carrying it in the snow, great for families. At the end of your stay we can collect the equipment from your accommodation when you are finished with it.
You must call 03 5758 3500 by 5pm on your last day to arrange. Please ensure it is all placed neatly together and accessable.
What is the Pre-delivery Rental Service?
If you would like your gear delivered and picked up without coming into the store you can do this when you reach the checkout of the online booking form. Click the box * Yes! Please pre-deliver my equipment to my on mountain accommodation.
Please note - this is not recommended for beginners as we would like to see you in-store. Make sure all details supplied are correct and don't forget you can always come to any store if you need to make changes.
Click here for our extra tips:
If you have your own ski boots you will need to supply your ski-boot measurement, please see below: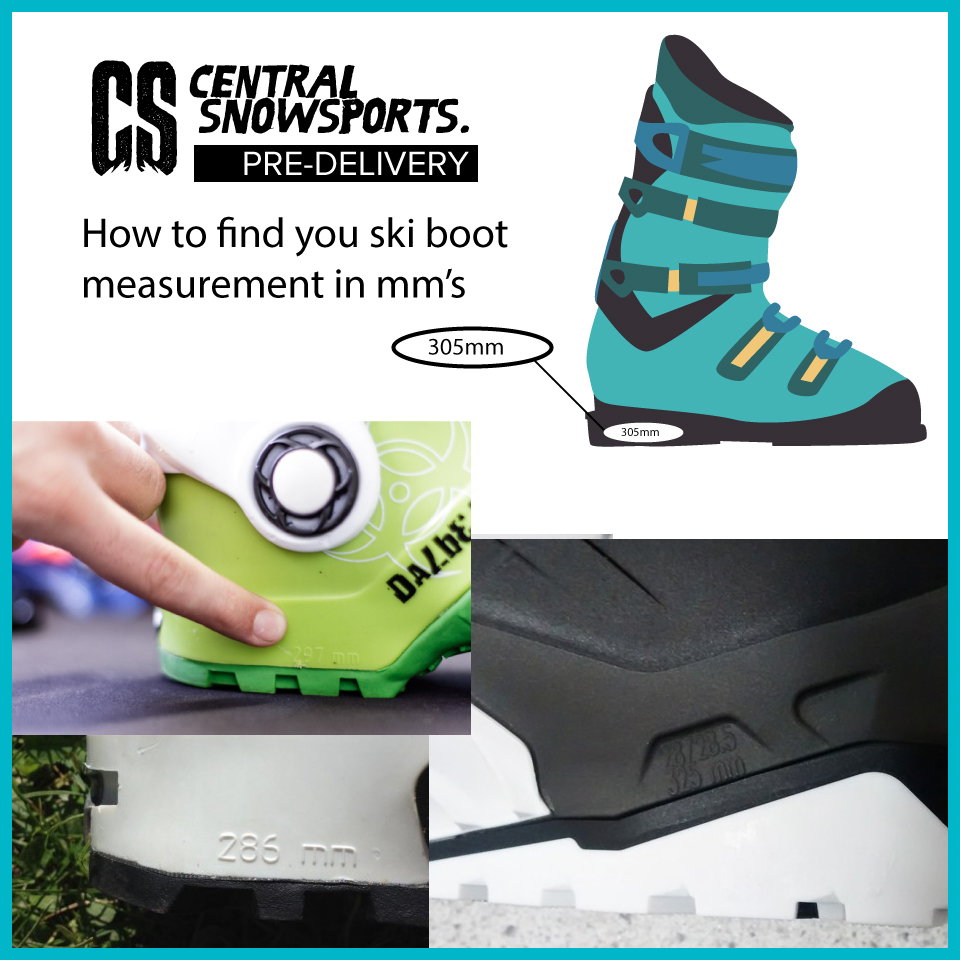 Do I need to prebook my equipment?
The online discount is only available on pre-booked equipment.
You can prebook your equipment via our online hire form. The online booking form requires inputting of the same information that you would otherwise supply us with instore, mainly easy to use drop downs.
Online prebooking requires pre-payment in Australian dollars via our online merchant, Stripe.
You are free to make equipment upgrades or additions instore or swap your demo equipment. Changes are subject to availability.
Prebooking speeds up the instore process dramatically and helps us better cater for our prebooked customers needs, there is a comments section at the bottom of each hire form for special requests or any information you think we may need to get you better equipped – we do not reply to these comments on the hire forms but they are noted instore when we process your booking. You can email us if you have any other questions.
What happens if my equipment breaks, is lost or stolen?
First of all let us assure you that this is very rare. For lost or stolen equipment, it is important to contact the store immediately 03 5758 3500 for a better chance of recovery.
Any lost, stolen or damaged equipment is charged for at the discretion of the Rental Manager, you are generally covered under your travel insurance, however we do charge this directly to the customer.
Whats the difference between Premium - Demo and Standard?
Premium - Demo skis are retail level skis for intermediate and up. We can match skis to skier type, preferred terrain and the current conditions. Premium - Demo skis can be swapped during your stay so you can try different types if required.
Standard skis are designed to be easy to turn and control. Helping beginners to low intermediates gain confidence and develop their turns.
What if I want to change equipment?
If you have an equipment problem please notify us asap, 03 5758 3500, so that we can rectify it. We want you to be kitted out correctly and to be comfortable. You can come into the store for general advice and changes when required.
Beginners?
No problem, we are here to help. Our instore technicians can help fit you, show you how to use the equipment and give you handy resort tips.
Socials
Check us out on Facebook and Instagram
Can you hire gloves?
You can not hire gloves, there is a range available to purchase in-store.
Are your skis gripwalk compatible?
Most of our ski bindings are gripwalk compatible. Please highlight that your boots are gripwalk with your friendly technician and mention in the comments if selecting the "Pre-delivery" option.
Secure payments
At Central Snowsports we use Stripe to secure your online transactions. For further information, visit the Stripe site at www.stripe.com
Sign up to our mailing list
Join up now to our mailing list to receive information about upcoming events, and discounts! Your details won't be given or sold to any other organisation.